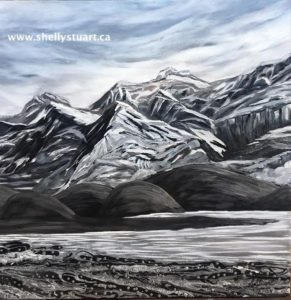 "Mountain Born" is a 36 inch by 36 inch acrylic painting. This painting was inspired by a recent drive along the Sea to Sky Hwy up to Whistler. I added a bear claw into the mountain in the foreground to represent the wildlife and the foothills are in the shape of seals. It is an engagement gift to my daughter and her Fiance as they were both "Mountain Born".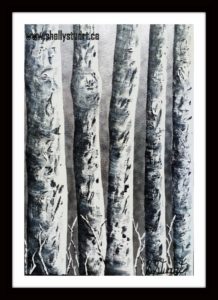 Serendipidy is a 24 inch x 36 inch acrylic palette knife and brush painting. The inspiration for this painting (and also my other recent painting Serenity") came from a recent weekend up in Whistler with my youngest daughter. I noticed all of the lovely birch trees in gardens around the hotels and stores. One of the days while we were there, it was overcast with a grey sky back shadowing the trees. I was quite taken with the relaxing effect it gave in combination with the soft white of the birch. It felt very serene……and caught my eye while sipping my Earl Grey tea from a local coffee shop.
***This painting is available for sale or rental through Semiahmoo Arts at The Turnbull Gallery (http://www.semiahmooarts.com/art-rental-and-sales/listing/)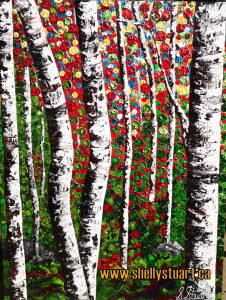 "Soulmates" is a 36 inch by 48 inch acrylic palette knife painting highlighting the molecular composition and swirling energy of a birch forest.
Often birch trees grow together becoming like soulmates and this is demonstrated by the two birch  connected in the foreground of this work.
If you would like to be notified about future paintings, please subscribe to my blog (above).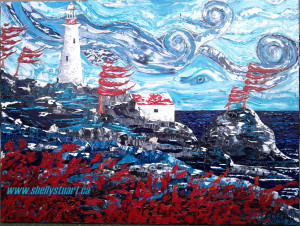 This painting has been sold.
"Mother Nature At Lighthouse Park" is a 36 inch by 48 inch acrylic palette knife painting demonstrating the dynamic energy of Lighthouse Park, British Columbia. With it's old growth Douglas Firs and awe inspiring coastal views, a hike through this park is a memorable experience.
What I love most there is that "Mother Nature" is preserved, protected and flourishing…………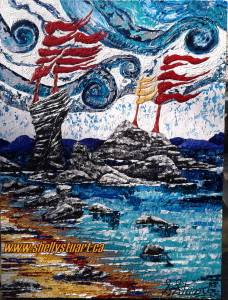 This painting has been sold.
"The Wild Of Bamfield" is a 30 inch x 40 inch acrylic palette knife painting reflecting the wild nature of Bamfield, British Columbia. Last year, I was lucky to spend four days at the Bamfield Marine Sciences Centre (http://www.bamfieldmsc.com/) with my daughter on a school fieldtrip. We learned an incredible amount about our environment and marine life from the biologists there. I loved the untamed feel of this coastal area.
This painting has been sold.
"Emergence" is a 36 inch x 60 inch acrylic Palette Knife painting that highlights the feel of emerging out of one situation or stage of life into another, stronger, renewed and refreshed.
The staircase reflects the journey and the yellow light is the "Emergence".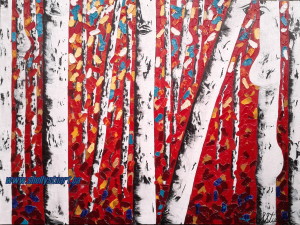 This painting has been sold.
"The Party" is a 36 inch x 48 inch acrylic palette knife painting depicting a story about soulmates who meet at a party thrown by a good friend. The friend (middle birch tree) is looking very pleased with himself as he knew they would be a good match for each other. Other couples can be seen chatting in the background.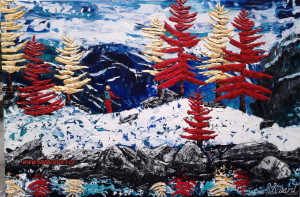 "The New Venture" is a  24″ x 36″ palette knife painting of a skier/snowshoer up in the mountains around Whistler, British Columbia. It reminds me of the feeling I get when I start a new venture with new ideas and fun possibilities:)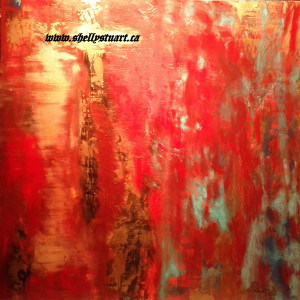 "Cosmic Poetry" is a 48 inch by 48 inch palette knife acrylic abstract. The idea/colors/emotions for this painting surfaced during a meditative experience 🙂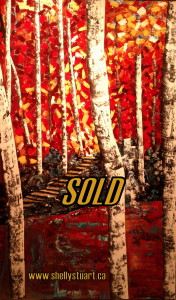 This painting is sold
"Epiphany" is a 36 inch by 60 inch palette knife painting that symbolizes how in certain moments of our life, everything seems so clear to us, like when we meet our soulmate 🙂 The stairs symbolize the journey and self growth that occurs along the way……