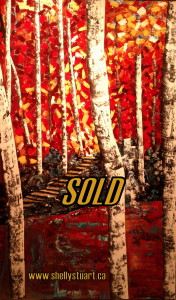 "Epiphany" is a 36 inch by 60 inch palette knife painting that symbolizes how in certain moments of our life, everything seems so clear to us, like when we meet our soulmate 🙂 The stairs symbolize the journey and self growth that occurs along the way……
This painting has been sold through Semiahmoo Arts at The Turnbull Gallery (http://www.semiahmooarts.com/)

"The Mingle" is a 18 inch by 72 inch palette knife acrylic painting. It reflects the masculine and feminine aspects of nature and the the interesting people we meet while out mingling at a party or social function.
This painting has been sold through Semiahmoo Arts at The Turnbull Gallery (http://www.semiahmooarts.com/)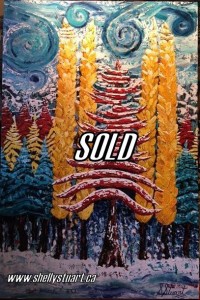 "Nature's Cathedral" is a 40 inch by 60 inch acrylic palette knife painting. While backpacking in Barcelona Spain, I was admiring Gaudi's Cathedral, "The Sagrada Familia" (http://www.sagradafamilia.org/en/) and thought wouldn't it be interesting to paint a British Columbian winter scene with the trees in the general shape of this cathedral. For me, nature has always been my cathedral, a place where I rejuvenate myself and connect with my spiritual side.
All the trees are Douglas Firs and the yellow trees are Cypress trees as they are common in Spain. The dots under the central red Douglas Fir symbolize people entering into Nature's Cathedral to connect with their spirituality. When they leave, they are refreshed and feel a emotional connection with the energy of nature along with a greater understanding of the meaning of life:)
***This painting has been sold through Semiahmoo Arts at The Turnbull Gallery (http://www.semiahmooarts.com/)