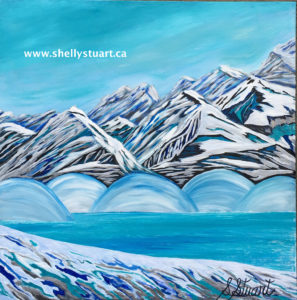 Beaumont is a 36 inch by 36 inch acrylic painting that reflects the icy fresh cold feeling of the winter air along with majestic views while snowshoeing, ice skating, skiing or snowmobiling in the beautiful mountains of British Columbia.
Beaumont is available for rent or sale at Semiahmoo Arts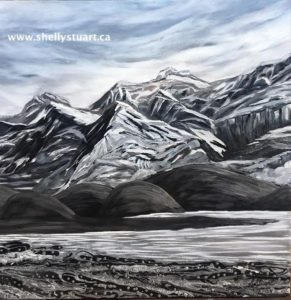 "Mountain Born" is a 36 inch by 36 inch acrylic painting. This painting was inspired by a recent drive along the Sea to Sky Hwy up to Whistler. I added a bear claw into the mountain in the foreground to represent the wildlife and the foothills are in the shape of seals. It is an engagement gift to my daughter and her Fiance as they were both "Mountain Born".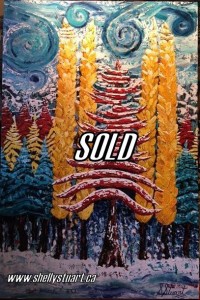 "Nature's Cathedral" is a 40 inch by 60 inch acrylic palette knife painting. While backpacking in Barcelona Spain, I was admiring Gaudi's Cathedral, "The Sagrada Familia" (http://www.sagradafamilia.org/en/) and thought wouldn't it be interesting to paint a British Columbian winter scene with the trees in the general shape of this cathedral. For me, nature has always been my cathedral, a place where I rejuvenate myself and connect with my spiritual side.
All the trees are Douglas Firs and the yellow trees are Cypress trees as they are common in Spain. The dots under the central red Douglas Fir symbolize people entering into Nature's Cathedral to connect with their spirituality. When they leave, they are refreshed and feel a emotional connection with the energy of nature along with a greater understanding of the meaning of life:)
***This painting has been sold through Semiahmoo Arts at The Turnbull Gallery (http://www.semiahmooarts.com/)