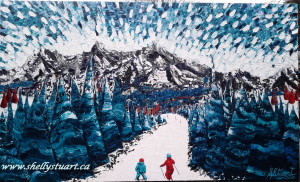 "Austria, Through A Child's Eyes" is a 36 inch by 60 inch palette knife painting. My friend Michelle and I went to Austria and felt the joy of being like a kid again when we experienced the Alps for the first time. The woman skiing is me and the child is an extension of me viewing the beautiful Austrian landscape through child-like eyes. I also added purple into the mountains as Amethyst is my birthstone, you can only see the purple throughout the mountains when the light reflects off the painting at a certain angle.
This painting is available through Semiahmoo Arts at The Turnbull Gallery (http://www.semiahmooarts.com/art-rental-and-sales/)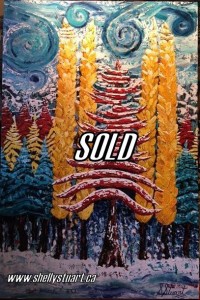 "Nature's Cathedral" is a 40 inch by 60 inch acrylic palette knife painting. While backpacking in Barcelona Spain, I was admiring Gaudi's Cathedral, "The Sagrada Familia" (http://www.sagradafamilia.org/en/) and thought wouldn't it be interesting to paint a British Columbian winter scene with the trees in the general shape of this cathedral. For me, nature has always been my cathedral, a place where I rejuvenate myself and connect with my spiritual side.
All the trees are Douglas Firs and the yellow trees are Cypress trees as they are common in Spain. The dots under the central red Douglas Fir symbolize people entering into Nature's Cathedral to connect with their spirituality. When they leave, they are refreshed and feel a emotional connection with the energy of nature along with a greater understanding of the meaning of life:)
***This painting has been sold through Semiahmoo Arts at The Turnbull Gallery (http://www.semiahmooarts.com/)