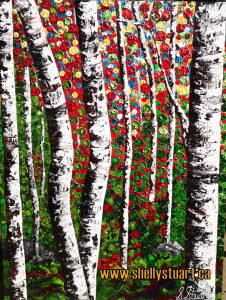 "Soulmates" is a 36 inch by 48 inch acrylic palette knife painting highlighting the molecular composition and swirling energy of a birch forest.
Often birch trees grow together becoming like soulmates and this is demonstrated by the two birch  connected in the foreground of this work.
If you would like to be notified about future paintings, please subscribe to my blog (above).
This painting has been sold.
"Emergence" is a 36 inch x 60 inch acrylic Palette Knife painting that highlights the feel of emerging out of one situation or stage of life into another, stronger, renewed and refreshed.
The staircase reflects the journey and the yellow light is the "Emergence".