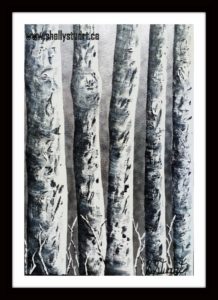 Serendipidy is a 24 inch x 36 inch acrylic palette knife and brush painting. The inspiration for this painting (and also my other recent painting Serenity") came from a recent weekend up in Whistler with my youngest daughter. I noticed all of the lovely birch trees in gardens around the hotels and stores. One of the days while we were there, it was overcast with a grey sky back shadowing the trees. I was quite taken with the relaxing effect it gave in combination with the soft white of the birch. It felt very serene……and caught my eye while sipping my Earl Grey tea from a local coffee shop.
***This painting is available for sale or rental through Semiahmoo Arts at The Turnbull Gallery (http://www.semiahmooarts.com/art-rental-and-sales/listing/)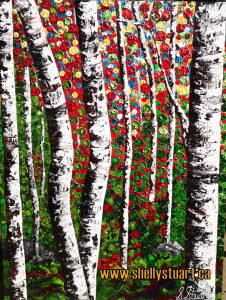 "Soulmates" is a 36 inch by 48 inch acrylic palette knife painting highlighting the molecular composition and swirling energy of a birch forest.
Often birch trees grow together becoming like soulmates and this is demonstrated by the two birch  connected in the foreground of this work.
If you would like to be notified about future paintings, please subscribe to my blog (above).
This painting has been sold.
"Emergence" is a 36 inch x 60 inch acrylic Palette Knife painting that highlights the feel of emerging out of one situation or stage of life into another, stronger, renewed and refreshed.
The staircase reflects the journey and the yellow light is the "Emergence".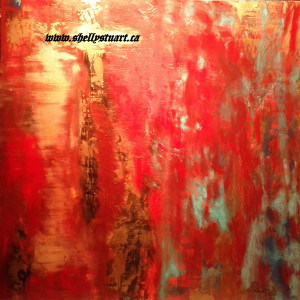 "Cosmic Poetry" is a 48 inch by 48 inch palette knife acrylic abstract. The idea/colors/emotions for this painting surfaced during a meditative experience 🙂