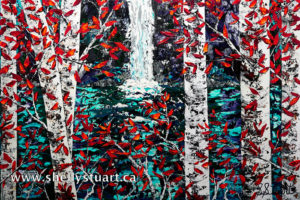 "Anahita" is a 40 inch by 60 inch acrylic palette knife painting. It reminds me of many different beautiful waterfalls I've seen with my family while hiking. It is available at the Vancouver Art Council's Gallery in North Vancouver.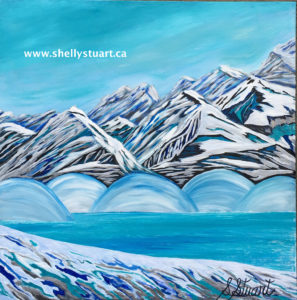 Beaumont is a 36 inch by 36 inch acrylic painting that reflects the icy fresh cold feeling of the winter air along with majestic views while snowshoeing, ice skating, skiing or snowmobiling in the beautiful mountains of British Columbia.
Beaumont is available for rent or sale at Semiahmoo Arts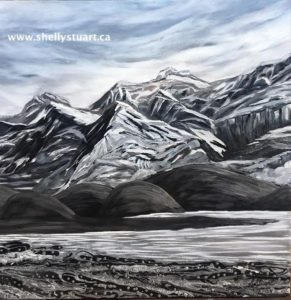 "Mountain Born" is a 36 inch by 36 inch acrylic painting. This painting was inspired by a recent drive along the Sea to Sky Hwy up to Whistler. I added a bear claw into the mountain in the foreground to represent the wildlife and the foothills are in the shape of seals. It is an engagement gift to my daughter and her Fiance as they were both "Mountain Born".