June 28, 2018 · Filed Under
Aquamarine teal blue water
,
Art Inspired By British Columbia Landscape
,
British Columbia
,
Canada
,
Inukshuk trees
,
Spirituality
,
Travel Art
,
Uncategorized
,
Whistler
,
Whistler Art
,
Whistler Mountain
·
Comment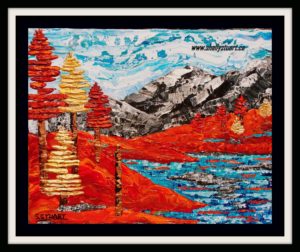 "The Weekend" is an acrylic palette knife painting in memory of a recent weekend up in Whistler with my youngest daughter. We both with our busy lives had such a rejuvenating time there with lots of laughs returning home with  a spring in our step.
The trees in this painting were made to reflect the essence of inukshuks as there was a large one very close to where we were staying in the main village. As we were biking and and taking long walks, I began to see the local trees as large supportive inukshuks lining the paths and guiding the way………to more of a relaxed state of mind letting go of the stressors of life and being more in the moment with my daughter.
***This painting is available for sale or rental through Semiahmoo Arts at The Turnbull Gallery (http://www.semiahmooarts.com/art-rental-and-sales/listing/)