The Wild Of Bamfield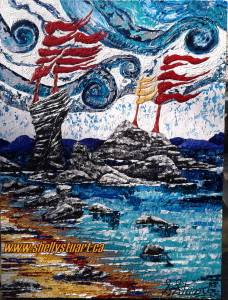 This painting has been sold.
"The Wild Of Bamfield" is a 30 inch x 40 inch acrylic palette knife painting reflecting the wild nature of Bamfield, British Columbia. Last year, I was lucky to spend four days at the Bamfield Marine Sciences Centre (http://www.bamfieldmsc.com/) with my daughter on a school fieldtrip. We learned an incredible amount about our environment and marine life from the biologists there. I loved the untamed feel of this coastal area.
Comments